When it comes to your kitchen, you want it to be clean, you want it to be functional and you want it to be comfortable.
With all that as a given, however, every year brings a new mix of kitchen ideas to make your space its most stylish. Whether you're dreaming of a sleek new kitchen or you're looking for some design inspo for a little spruce up, with the help of HGTV*, we've rounded up our Top 10 (okay, 11 cause we're awesome) kitchen trends for 2021.
*all photos credited to HGTV
Quartz Countertops
While the look of granite or marble countertops is still a top kitchen trend, quartz counters are an increasingly popular alternative. Why? They offer a contemporary, upscale look, while also being super durable and easy to care for. And, quartz countertops give you a great return on your investment in a renovation too!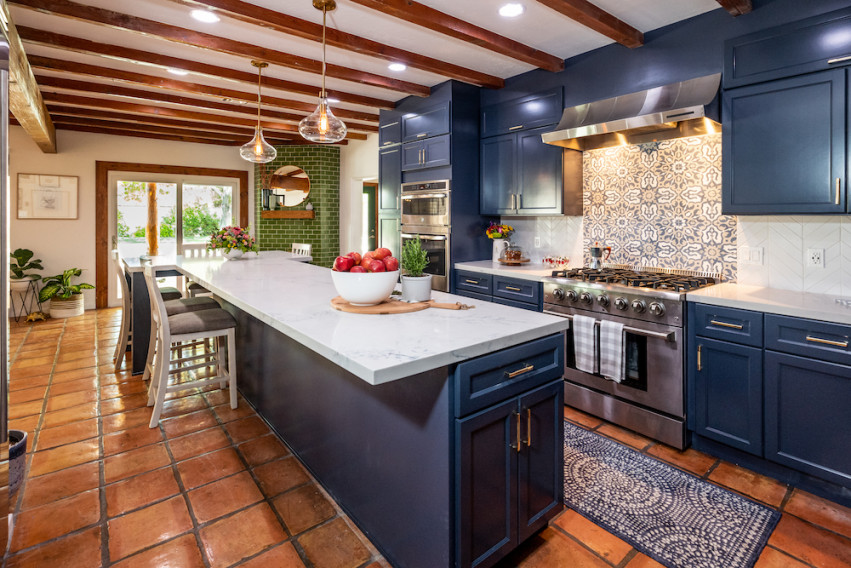 The Dark Side
On the opposite end of the spectrum, dark kitchen countertops are also trending. From dark, glossy options to deep-toned wood counters, dark countertops contrast well with kitchen cabinets in lighter woods, whites or painted designs.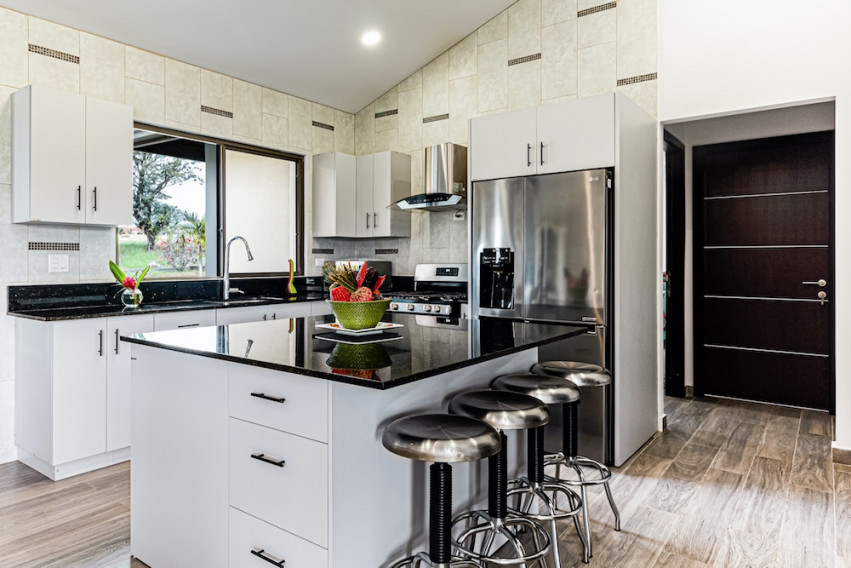 Go Wall to Wall
Let's face it: your kitchen is full of stuff. From pantry items to kitchen gadgets, more lived-in kitchens face storage issues. With that in mind, it's becoming increasingly popular to totally eschew the open shelving or no-uppers trends of years past, in favor of wall-to-wall cabinetry.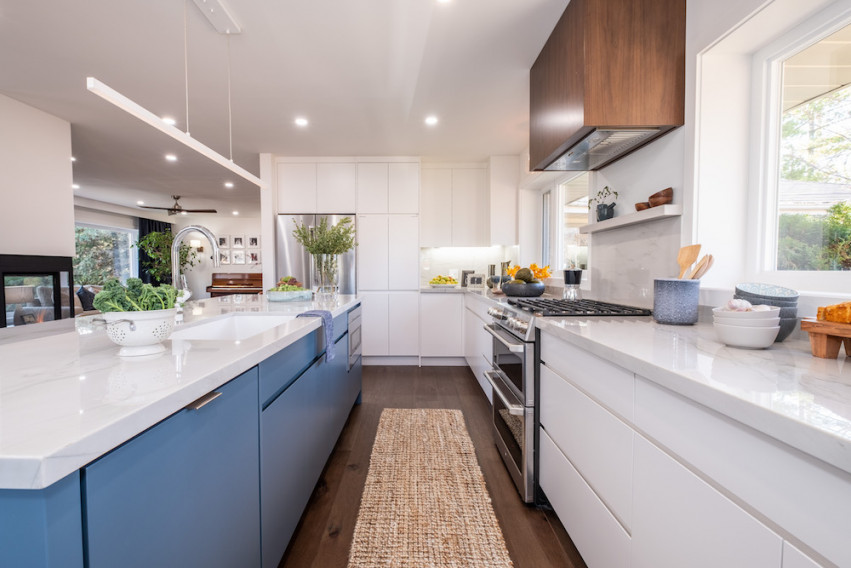 Clean-Lined Cabinets
The trend towards minimalist kitchen cabinets — clean-lined and nearly seamless with minimal hardware or touch-release designs — continues to be one of the most popular aesthetics for kitchens.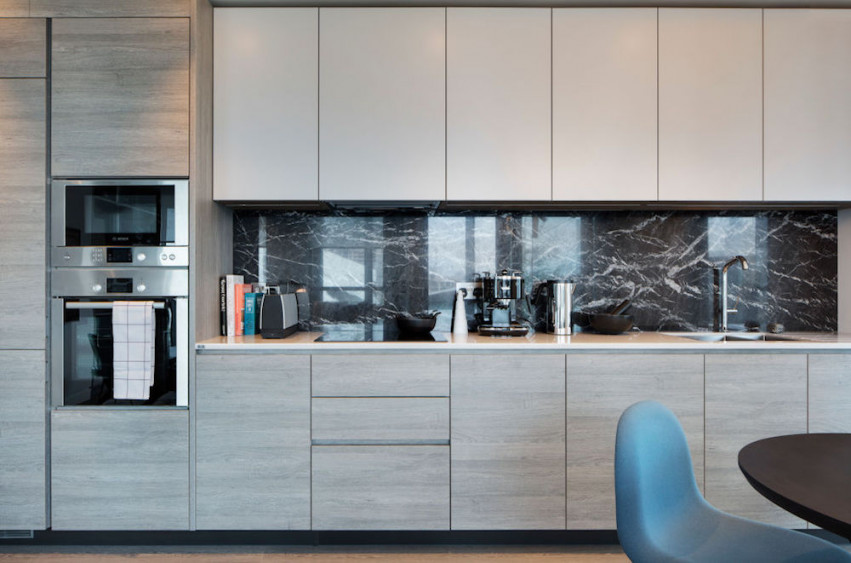 Multi-Level Islands
Islands will always be a popular kitchen trend — if you've got the space, a kitchen island increases your prep and storage space will adding extra character to the room — but more and more kitchen designs are including islands with multiple levels. Whether it's a cantilevered design or an island with different heights on opposing sides, playing with different levels gives you more options for prep space and comfortable seating — and multi-functional spaces are always a big win.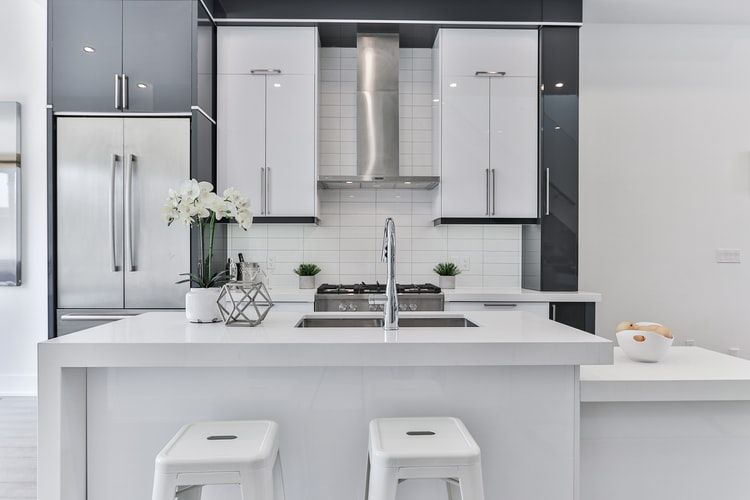 Energy Efficiency
With many of us becoming more conscious of our carbon footprint, one of the biggest 2021 kitchen trends is making your kitchen more energy efficient and environmentally friendly. One clear way to achieve this goal? Installing shiny new, energy-efficient windows enhances the view from your kitchen window while also saving energy in the long run.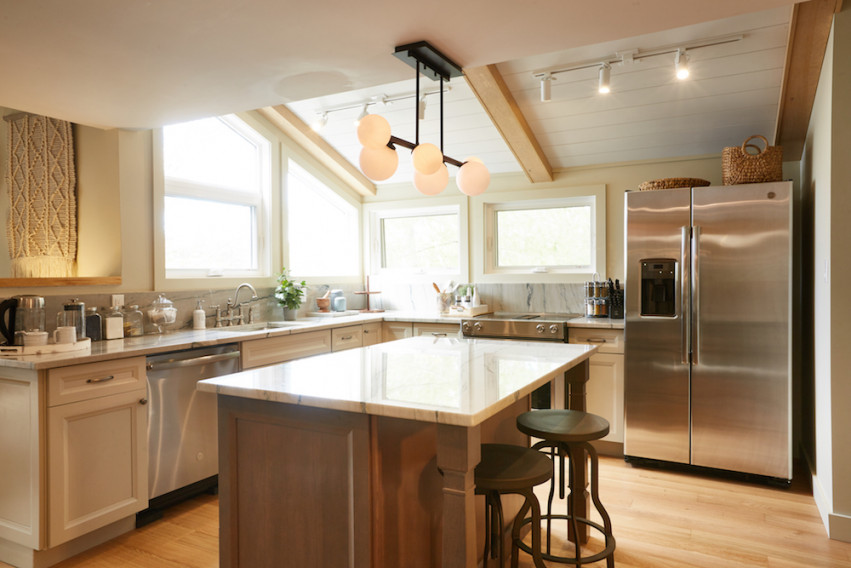 Woven Light Fixtures
If you're looking to add a bit of a breezy, relaxed feel to your kitchen, woven-style light fixtures are the trend to shine a light on. Made from materials like bamboo and rattan, light-hued woven pendant lights add a contemporary, natural vibes to the space.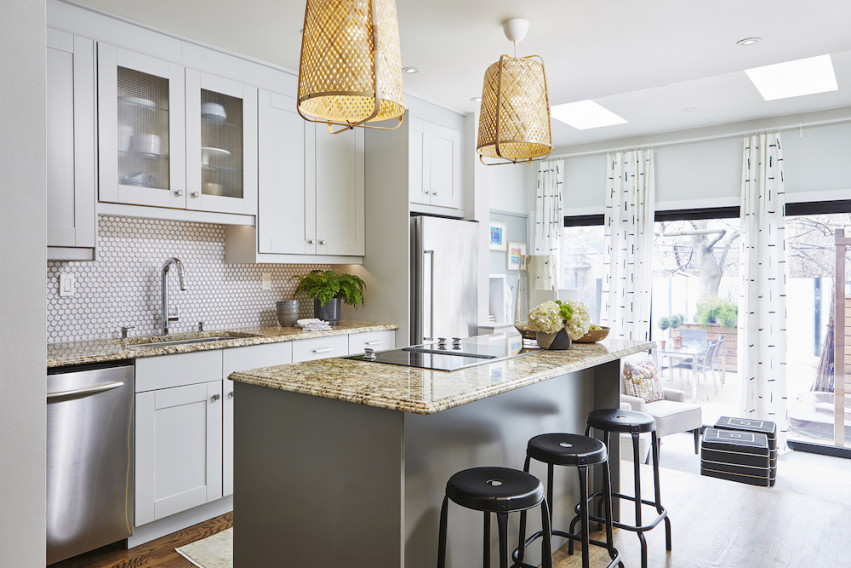 Reclaiming Wood
The culmination of a few kitchen trends (like the movement towards warmer color palettes and heightened eco-awareness in kitchen design), more and more people are finding ways to use reclaimed wood in the kitchen. Reclaimed wood adds a rustic touch, but it can also be quite contemporary if it's used in modern kitchen cabinet designs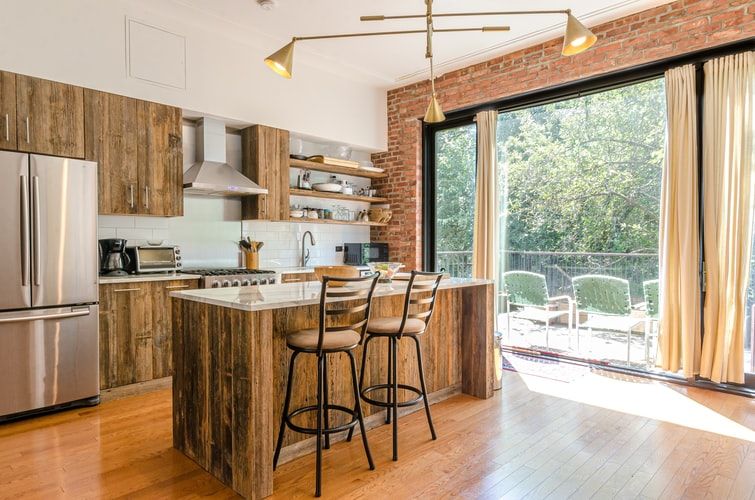 Solid Choices
If tiny tiles aren't your taste, the slab backsplash trend is a solid choice for your kitchen. One-piece backsplashes in materials like marble or metal add a clean, seamless look with a lot of stylish drama.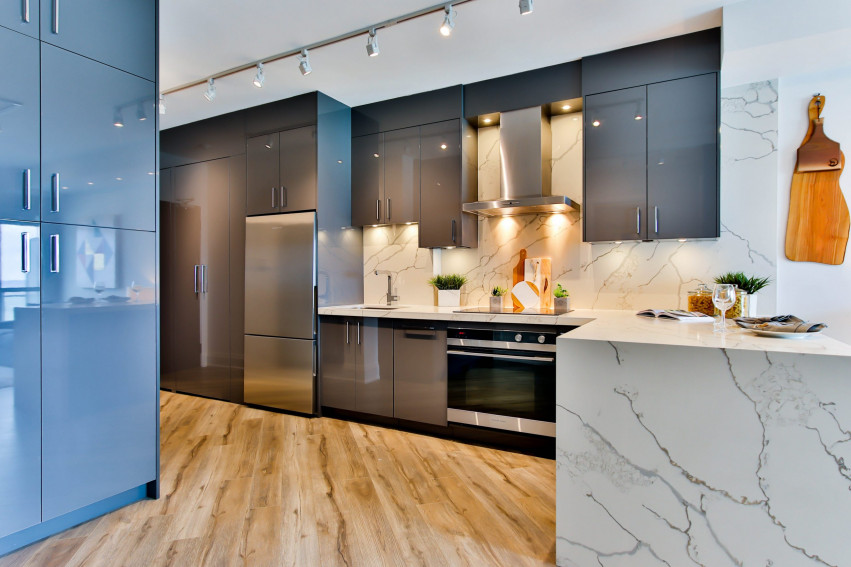 Serious Shine
If you want to incorporate a little gloss into your kitchen design this year, a high-shine backsplash is the way to go. From glossy finishes to glass or mirrors, backsplashes are the perfect place to play with shine.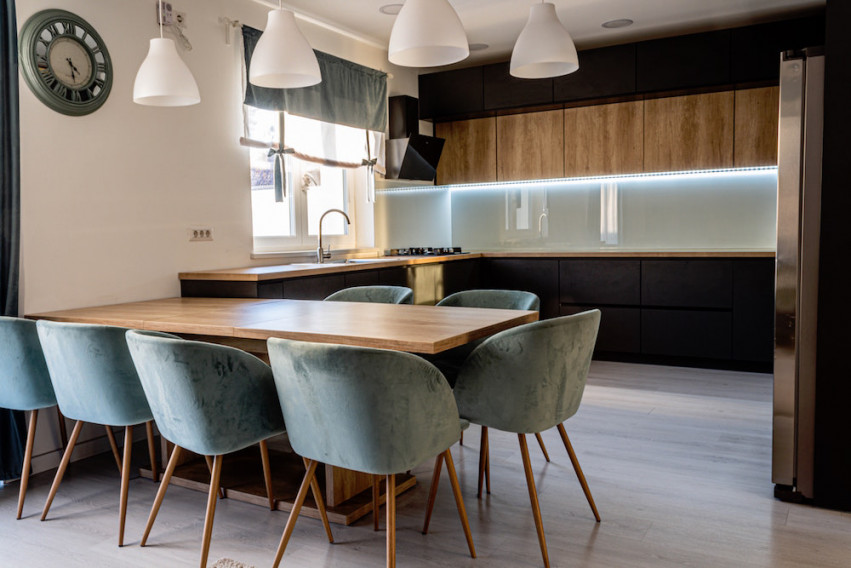 Faucet Fashion
Small changes can make a big impact when it comes to your cooking space, and kitchen faucets that go beyond functional — from contemporary, color-blocked designs to unusual metallics to art-inspired pieces — can change up the look and flow of your kitchen.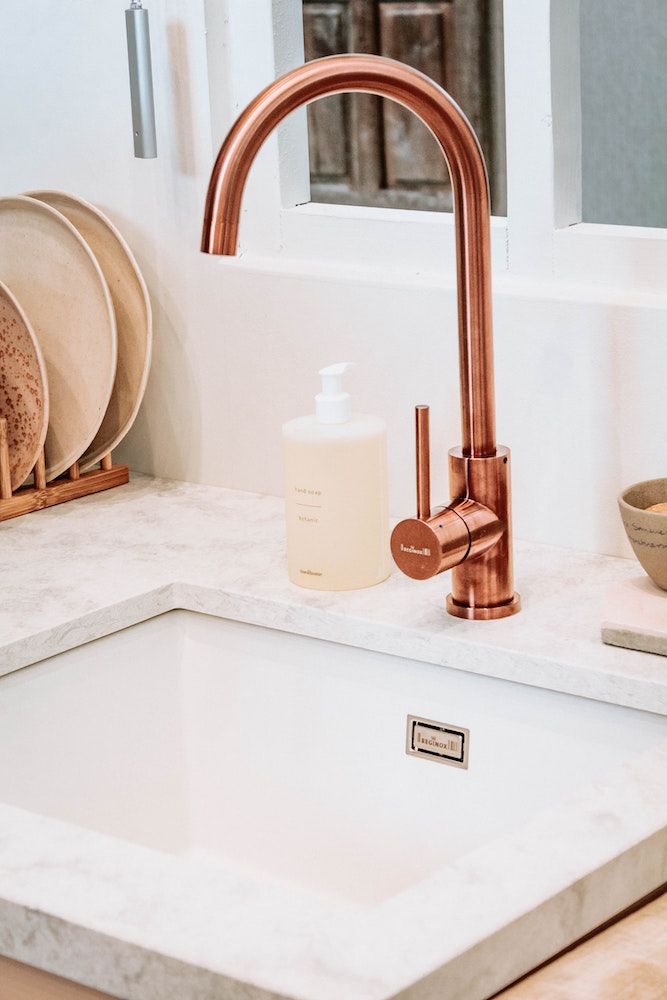 Not sure where to start?
Whether you're thinking about selling soon, or sometime down the road, making the right upgrades for re-sell is key! Give me a call and let's discuss what you're thinking, so you can be sure to enjoy it now, and for years to come!
Let's Talk